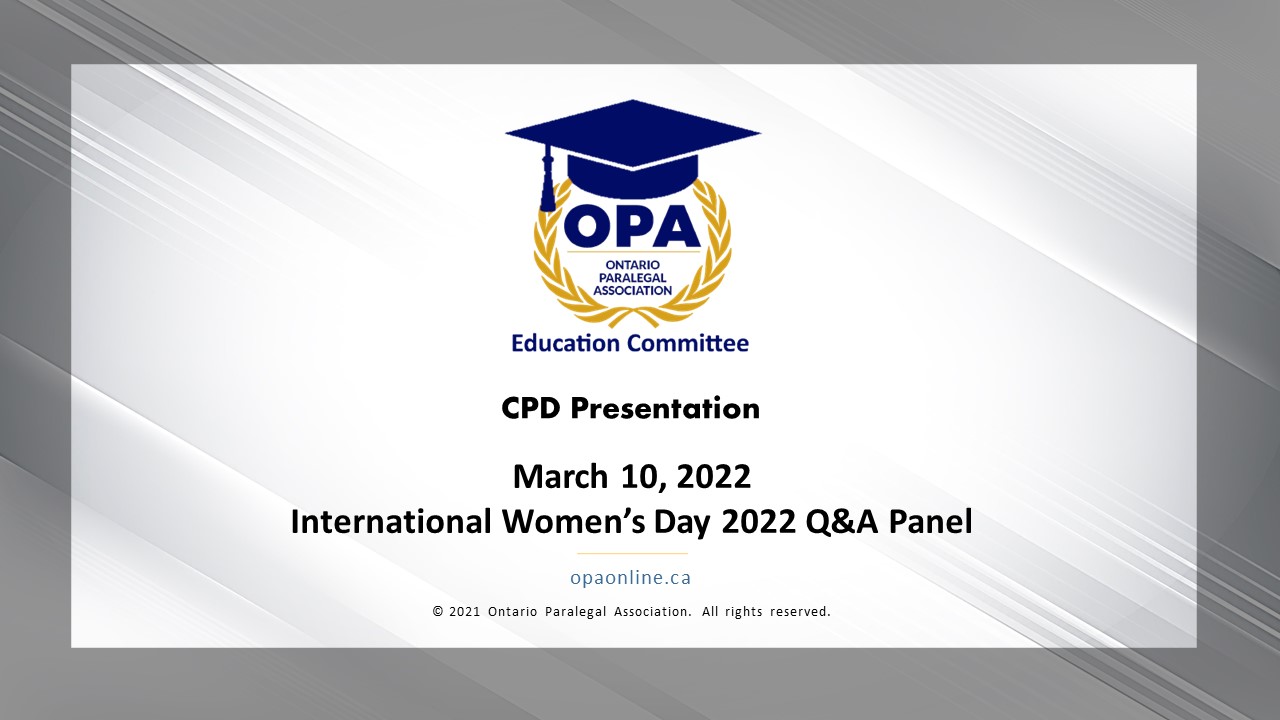 Speakers
Jeah Manubag

Litigation Paralegal

Jeah Manubag is a paralegal associate at Monkhouse law and is licensed by the Law Society of Ontario.

She is an honours graduate of the accredited Paralegal Diploma Program at Sheridan College
with a particularly strong interest in employment law.

At Monkhouse Law, Jeah assists with the efficiency of the firm's operations including, but not limited to, drafting legal documents and conducting legal research. Her passion and drive to
help others make it so that she always and will continue to put forth her best efforts to overcome any and all challenges, no matter how big or small.

Jeah is actively involved in the paralegal professional community and volunteers her time at the Ontario Paralegal Association where she regularly attends continuing legal education seminars to stay current with legal developments.

When she isn't working, she also enjoys watching movies, practicing yoga and spending time with her tuxedo cat, Kiara.

Melanie Henriques

Partner, Licensed Paralegal

Melanie Henriques is a Licensed Paralegal and Partner at Samfi ru Tumarkin LLP. She began herpractice in 2011 and focuses on numerous areas of law, including Employment, Insurance,Statutory Accident Benefi ts, Human Rights, and Landlord and Tenant disputes.
Melanie provides sound legal advice and representation to individuals and businesses using apragmatic approach to obtain the best possible outcome for her clients, on a cost-eff ective basis.She takes pride in confi dently representing her clients while understanding their needs andworking towards a speedy resolution.
In her Employment Practice, Melanie represents employees and employers with respect to
wrongful dismissal
,
constructive dismissal
,
workplace harassment
, human rights complaints and
employment contracts
.
In her
Personal Injury Practice
, Melanie represents injured individuals who have suff ered fromvery serious injuries, including traumatic brain injuries, psychological injuries, and chronic soft-tissue injuries. She ensures that her clients receive every dollar they are entitled to from theirinsurance company, and assists them in their road to recovery.
Melanie has appeared numerous times before the Ontario Small Claims Court and otheradministrative bodies, including the Ontario Human Rights Tribunal, Canadian Human RightsCommission, Landlord and Tenant Board, Financial Services Commission of Ontario, and Licencelbl

Rochelle Ivri

Citizenship Judge, Professor of Paralegal Studies, Paralegal, RCIC, Notary Public

Professor Ivri was the first African-Canadian professor in Mohawk College's Paralegal Program. She was the first paralegal and immigration consultant appointed as one of 10 citizenship judges in Canada. In addition, she is committed to enriching the Hamilton-Niagara communities where she sits on the boards of Bravo Niagara!, the Niagara Region Women's Advisory Committee and the FAB Foundation.
Ivri, who has a degree in criminology and a paralegal diploma from triOS college in Hamilton, began teaching at Mohawk College in 2015. She is also a licensed immigration consultant.
The Lincoln Alexander Award, established in 2002, is awarded annually in recognition of an Ontario lawyer or paralegal who has demonstrated long-standing interest and commitment to the public and to the pursuit of community service on behalf of residents of Ontario. The award was created in honour of The Honourable Lincoln M. Alexander, PC, CC, OOnt, CD, QC, LSM, as recognition of his dedication to the people of Ontario and the legal community.
Date
Mar 10 2022
Expired!
OPA CPD Series: International Women's Day 2022 Q&A Panel
On Thursday, March 10, 2022 the Education Committee will host a Q&A panel featuring three esteemed women paralegals paving the way in the legal profession. This panel will discuss their accomplishments and experiences, strategies for navigating bias and discrimination in the legal profession, and what the future looks like for women paralegals in law. Join the conversation on:
Agenda
Speaker Introduction (5 min)
Topics:
The Mentor and the Mentee (10 minutes)
-Defining and discussing the roles of a mentor and mentee
-Whether the mentor or mentee, how did it shape your career
-The importance of leadership and criticism
Your Abilities as a Professional (10 minutes)
-Scenarios and occurrences when you were questioned as a competent paralegal, whether it was the court, a client, or a colleague doubting your professional capacity because you're a women
-Discussing the best way to handle this kind of criticism
Defining and Practicing Work/Life Balance and Wellness Principles (10 minutes)
-Defining 'work/life' balance as a paralegal. Is it possible? Is it overused?
-How the wellness principles can be incorporated into our work lives
-Ways the workplace can adapt and implement a healthy work/life relationship for employees or coworkers
Looking Forward (10 minutes)
-Common obstacles facing women paralegals
-Steps we can take as individuals, as coworkers, and as leaders in the workplace, the Court, and professional organizations
Questions from Attendees (10 minutes)
Closing Remarks (5 minutes)
Please note this CPD is LSO accredited for 25 Professionalism minutes and 15 EDI Professionalism minutes.